download v1.1.4
Find local MTB races via your Mac OS X Dashboard
This is a little dashboard widget which lets you see regional MTB race calendars from the MTB Calendar website.
Preview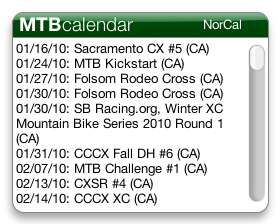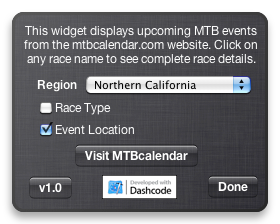 Installation
Installing the widget should be dead simple on a Mac OS X machine running 10.4.3 or higher.
If you're using Safari, click the download link. When the widget download is complete, show Dashboard, click the Plus sign to display the Widget Bar and click the widget's icon in the Widget Bar to open it. If you're using a browser other than Safari, click the download link. When the widget download is complete, unarchive it (click twice on it) and place it in /Library/Widgets/ in your home folder. show Dashboard, click the Plus sign to display the Widget Bar and click the widget's icon in the Widget Bar to open it. Alternately, you can just double-click on the uncompressed icon and Dashboard will prompt you to install it.
Please note, that this widget is only supported on Mac OS X. I may be creating a XP or Google or Yahoo! widget if there is any interest.
Usage
This widget will allow you to see upcoming MTB events that have been entered on the mtbcalendar.com site.
On the back of the widget (click the (i) in the lower right corner to see the back), there are three options:
A pulldown menu which lists different regions so that you can find races closest to where you live. It defaults to "Northern California" (hells yeah) but you can set it to any region you choose. The regions are mostly small cluster of states, but some states are split (like California).
"Race Type" which shows the types of races (XC, DH, TT, etc.) at each event
"Event Location" which shows event's state
To see more details about any race event, simply click on the events name on the front panel and it will take you to the appropriate page on the MTB Calendar website.
Configuration
The regions on the back panel pulldown menu basically refer to groups of states (or parts of states). The following list maps state abbreviations (or parts of states) to their pulldown menu region name:
NorCal: CA north of latitude 36.3219 (just south of Fresno) plus parts of Northern Nevada (east of longitude 118.6846 which is basically the Reno area)
SoCal: CA south of the 36.3219 latitude
Northwest (3): 'WA', 'OR', 'ID'
Mountain (5): 'UT', 'CO', 'WY', 'MT', 'NV' (except Reno area)
Southwest (2): 'AZ', 'NM'
South Central (4): 'OK', 'AR', 'TX', 'LA'
Central (4): 'KS', 'MO', 'NE', 'IA'
North Central (3): 'SD', 'ND', 'MN'
Midwest (6): 'WI', 'IL', 'IN', 'OH', 'MI', 'KY'
Northeast (7): 'ME', 'NH', 'VT', 'NY', 'CT', 'RI', 'MA'
Southeast (7): 'FL','GA', 'AL', 'MS', 'TN', 'SC', 'NC'
East (6): 'VA', 'WV', 'DE', 'MD', 'NJ', 'PA'
Pacific Islands (1): 'HI'
Alaska (1): 'AK'
Author
This dashboard widget was created by /k for the MTBcalendar website. /k also writes the NorCal MTB Racing Blog and occasionally gets to ride his bike.
Contact
Please send any comments or questions about this widget to norcalmtbracing AT gmail D0T com (and remember to replace AT with @ and D0T with .)
Download
The most current version of MTBcalendar widget is available at http://cloud.github.com/downloads/slashk/mtb-calendar-widget/MTBcalendar.zip.
Source
This widget was created with Apple's Dashcode and follows most of their setup conventions.
The source is available via my GitHub account. You can clone the project with Git by running:
$ git clone git://github.com/slashk/mtb-calendar-widget
Changelog
version 1.1.4 (March 13th, 2010) "catch & release"

fixed preferences so should that they persist across reboots and removals (thanks to Nick L. for the bug report)
versions 1.1.2 and 1.1.3 downloads were not created
version 1.1 (January 18th, 2010) "dream"

updated look of the widget (cleaner hopefully)
added ability to click on region to refresh
fixed refresh bug
updated document (this page)
version 1.0 (January 14th, 2010) "freebird"

complete overhaul of the code for new version of Dashcode
added options for location/state and/or race formats
added awesome animations during feed loading
updated document (this page)
version 0.45 (December 25th, 2008) "forgotten"

added in forgotten midwest and east regions (sorry guys)
added new icon and graphics (this actually came v0.44)
version 0.44 was unreleased --
changed version button to go to github documentation page
version 0.43 (December 19th, 2008)

minor cosmetic change on version number
version 0.42 (December 19th, 2008) "stutter"

fixed double json request problem
fixed 10 minute refresh bug (not saving last time)
small streamlining of code
version 0.41 (December 13th, 2008) "shorty"

revamped interface to occupy less screen real estate
added Hawaii and Alaska to regions (sorry guys!)
version 0.4 (December 10th, 2008)

added instructions and button to the back
minor stylistic changes
version 0.3 (December 3rd, 2008) BETA1

fixed refresh issues. now refreshes every 15 minutes.
fixed bug on scrollbar refreshing
fixed empty calendar issues. now includes text.
added all regions to popup menu
streamlined code
version 0.2 (December 1st, 2008)

icon ! (but it sucks)
back popup menu works !
correctly initialises preferences
weblinks work !
it's green !
version 0.1 (November 28th, 2008)

basic creation — only moderately usable
no savable preferences or icon